Why Is the Flu Shot So Important?
Flu Season Is Here
Fall is here, and while most of us think of beautiful foliage and pumpkins, it also means that the flu season has started.
Though the flu virus can be detected all year-round, it usually starts in October and peaks between December and February. Every year, 5 to 20 percent of the population across the U.S are affected by the flu virus, presenting most severe repercussions in young children, pregnant women, the elderly, and people who suffer from certain health conditions, like asthma and heart disease.
Last year, the flu season of 2017-2018 had severe impacts, with the highest ever recorded hospitalization rates, causing approximately 9 percent of Americans to get hospitalized, and a devastating result of 180 pediatric deaths.
Why should you get the flu shot yearly?
Each flu season is different, as the virus evolves and rapidly adapts. Experts attempt to predict which strains of the virus are likely to circulate, and this in order to manufacture new vaccines each flu season. That is why last year's vaccine may no longer be effective for this season, making it highly important to get the flu shot every year.
So is it time to get vaccinated?
The answer is a definite YES! The general recommendation is that everyone from the age of 6 months should get vaccinated every year. When? Well, as soon as the flu season starts you can get your flu shot, but keep in mind that your body needs about two weeks to develop its immune response. Meaning, the vaccine would be most effective if you get it by the end of October, just before the peak. If you're currently ill, wait until you fully recover before you receive the shot.
Are there any side effects to the vaccine?
Some assume that they can get the flu from receiving the vaccine, but this is incorrect. The virus in the vaccine is inactivated, so it is not possible to get infected by it. However, as your body responds to the vaccine, it is likely to experience mild symptoms that resemble the flu, such as: low fever, chills, headache, and redness around the injection area. But don't worry, these symptoms are likely to go away within a day or two.
Should pregnant women receive the vaccine?
YES! As the body changes, pregnant women are more prone to severe complications due to the flu. Despite this, only half of pregnant women do receive the vaccine. So if you are already pregnant or expect to be in the near future, please go ahead and get the flu vaccine. It can make a world of difference.
What if I already have the flu?
If you have the flu, you might be experiencing some of these symptoms: fever, chills, sore throat, cough, fatigue, body aches, headaches and congested nose.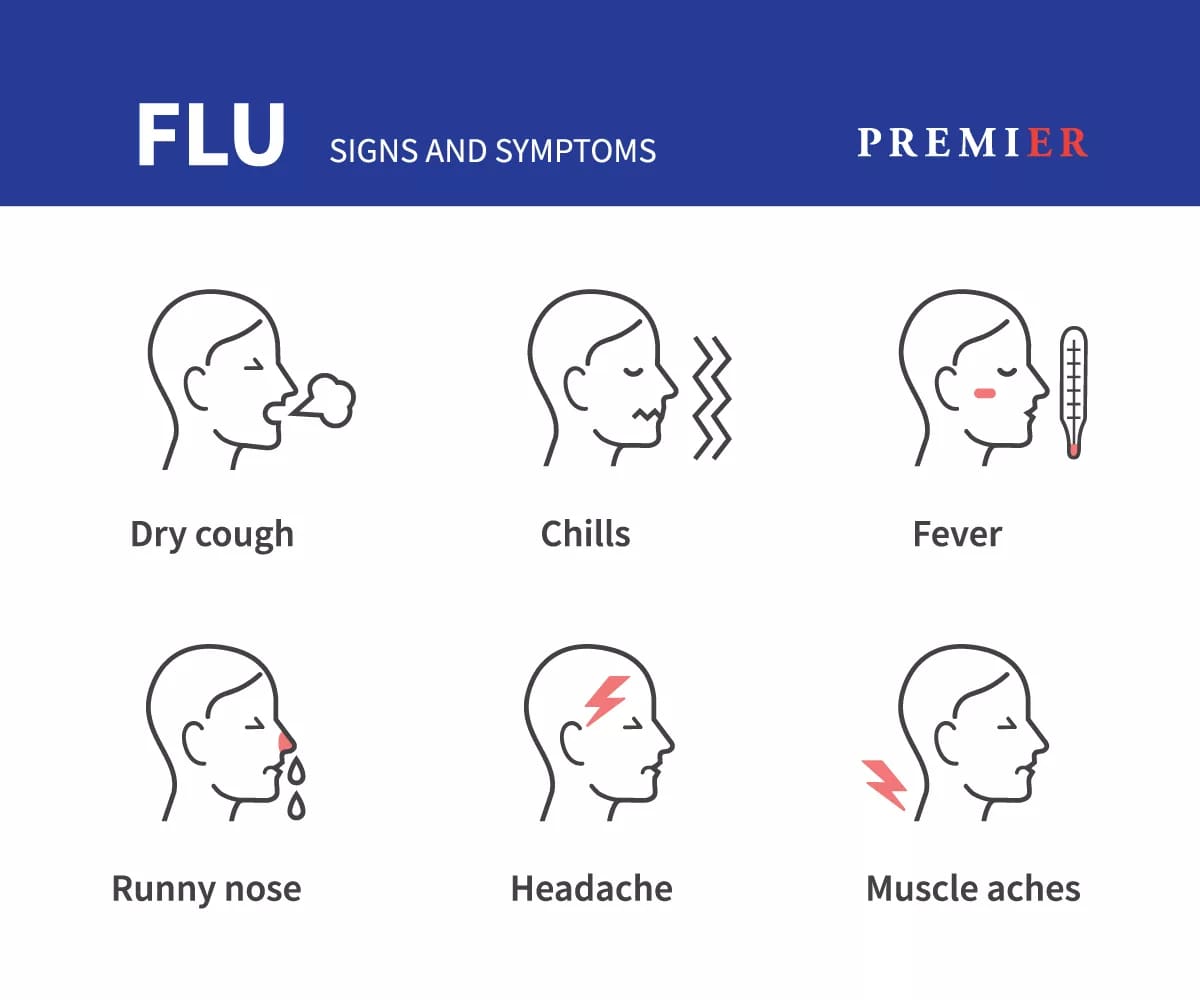 When these symptoms are mild, it is recommended to rest at home and get medical care if needed. However, if the symptoms are severe or you are at high risk of flu complications (including children, pregnant women and the elderly), it is advisable to contact your doctor.
We're here!
Seasonal flu shots are now available at any Premier Urgent Care location. Our friendly staff is happy to answer any of your questions! There is no appointment needed so come in at your convenience to greatly reduce you and your family's risk of getting the flu this year!